About us + our driving instructors
I WANNA P driving school is here offering innovative and modern driving lessons right throughout the Sutherland Shire and Helensburgh regions. Providing driving lessons to anyone who wanting to learn drive an automatic motor vehicle confidently.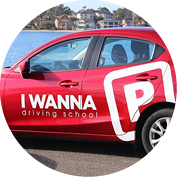 MEET BRETT
Hi, I'm Brett, founder and owner of I Wanna P Driving School. It can be pretty nerve wracking driving with someone you have never met, so here is just a little bit about myself. After completing high school in 1993, I completed a bachelor degree in physical and health education at the University of Woolongong. In short, I became a PE teacher, and for the next 20 years I worked in a variety of Sutherland Shire high schools, helping to educate thousands of students.
In 2016, I decided it was time to start a new adventure, and, after completing a Certificate IV in Transport and Logistics, I created my own company, I Wanna P Driving School (nice name hey!). In just 2 years, I Wanna P Driving School has experienced tremendous success and growth, so much so that there are now three I Wanna P cars on the road to help meet demand. I have personally helped hundreds of clients overcome their self-doubt and anxieties to achieve their driving goals. It certainly helps when your entire professional career has been dedicated to the self-improvement of others!! My friendly, calming nature, proven ability to adapt to the specific needs of each individual client, and communication skills second to none make me the perfect driving instructor. But don't just take my word for it, check out the reviews on website and Facebook page. Was incredibly humbled to be voted the most outstanding sole trader in the Sutherland Shire for 2018 and winning that award has reaffirmed my desire to deliver the best possible driving experience for my wonderful clients.
MEET ANDY
Helping drivers of all ages and abilities become safe, confident road users is a real passion of mine. In addition to being a RMS qualified Driving Instructor, I have completed a trade as a Motor Mechanic, have over 30 years' experience in Emergency Services and 15 years' experience in Training and Assessing. With this, not only can I help you on your learning journey, I will also focus on safety and can assist with some maintenance tips if required.
It is awesome to be instructing for the award winning "I WANNA P" Driving School. My patient, calm manner and clear communication skills will make you feel comfortable and confident on the road. You will be amazed how quickly your driving skills develop and progress. In no time you will be reading the traffic correctly, applying low risk driving techniques and tackling those tricky 3-point turns and reverse parallel parks!
So, whether you are just starting out as a nervous new driver or have been driving for years and want to brush up on your skills and confidence, I have the knowledge, ability and passion to help you achieve your goals.
I look forward to driving with you!
MEET MATT
A fully licenced driving instructor in NSW, I am also a qualified engineer who has over 20 year's experience in emergency services, the last 10 of which have been in a leadership, training and safety assessment. This role has further developed my calm, patient and safety-first attitude to teaching and learning.
Having supervised one daughter in successfully obtaining her licence and currently in the process of supervising another, I have gained passion and experience for guiding and instructing drivers in becoming skilled, confident and, most importantly, safe drivers on our busy roads.
I would be honoured to assist any driver, no matter age or experience, to obtain the skill and confidence required to achieve your driving goals and needs.
MEET SHANE
Being part of this well oiled machine and experienced team allows me as an instructor to enjoy sharing my knowledge and skills of how to drive well and safely. Due to my fun, calm approach and positive attitude I am able to successfully help students of all ages learn to drive.
I am certified to teach in automatic & manual vehicles (manual drivers need to supply their own vehicle).
As a professional dancer I have been teaching kids and adults all across the world for many years. My profession has allowed me to develop exceptional driving skills in addition to great people skills, as I have experience driving in many countries.
As an experienced coach and instructor my ability to communicate clearly, motivate and inspire people is infectious. Becoming a safe and competent driver takes time and practice, but a dedicated instructor like myself, can help you make it past the finish line.
MEET BEC
I am a mother of 2 adult children, and a crazy chocolate Labrador. I grew up in the Sutherland shire, and my happy place is spending time with my extended family. I am patient, easy- going, caring and love helping people. 
With many years as a Customer Service Manager and retails experience. My ability to adapt positively to frequently changing work practices led me to pursue a career as a professional driving instructor.
After successfully supervising my 2 children to obtain their provisional licence, I decided I wanted to be proactive in teaching learner drivers (in a safe, calm and positive environment) during such an exciting chapter in their life. Helping them to become safe, responsible, competent road users, while giving them the strategies to become low risk drivers.
I am a fully qualified driving instructor holding a current Accredited Certificate IV in Transport and Logistics TLI41218 (Road Transport – Car Driving Instruction)
Looking forward to getting on the road instructing not just in how to pass a test, we're instructing you on how to stay safe on the roads.